Watch this 2017 Summer Camp Promo and get Ready to Take Flight!


Severe Tick Warning
Due to the very mild winter this year, there will be an abundance of ticks and more of them will be carrying Lyme Disease. Please remember if you are hiking the trails of camp to make sure you wear long pants and long sleeves and check yourself all over when you get back to your campsite and home.
The Boy Scouts of America is one of the nation's largest and most prominent values-based youth development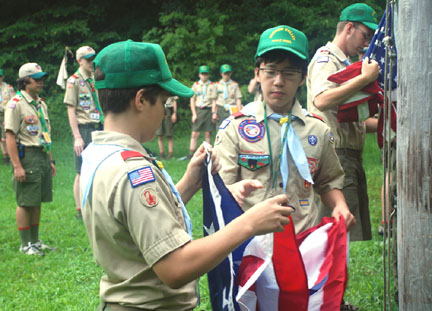 organizations. The BSA provides a program for young people that builds character, trains them in the responsibilities of participating citizenship, and develops personal fitness.
For nearly a century, the BSA has helped build the future leaders of this country by combining educational activities and lifelong values with fun and the outdoors. The Boy Scouts of America believes ? and through nearly a century of experience, knows ? that helping youth is a key to building a more conscientious, responsible, and productive society.
The Hudson Valley Council operates two year-round use properties- Camp Bullowa in Stony Point in Rockland County NY and Camp Nooteeming in Salt Point in Dutchess County. They are available for use by scout units and outside groups. Each camp has a lake, rifle range, lean-to's, cabins, kitchen and dining hall, campsites, hiking trails and open fields for all kinds of program.

The facilities can be rented by scout units or outside groups. Facilities at both camps include rifle ranges, hiking trails, lakes, dining halls, cabins, lean-tos, campsites, and other programs areas. To check the availability of a particular site or building, to learn the current fee structureo , or tmake a reservation, please contact Frank Trezza at the Hudson Valley Council Service Center at 845-566-7300, ext 324 or francis.trezza@scouting.org.