The Rockland District serves more than 2,100 youth in over 50 units
in Rockland and Orange Counties in New York.
We lost a very long tenured member of the BSA and the Hudson Valley Council. Larrie Goetz was a past Scoutmaster of Troop 185 in the Rockland County Council. He became involved in the district and eventually became the District Advancement Chair, and the Eagle Board coordinator. He was a Silver Beaver recipient and a Vigil Honor member of the Order of the Arrow. Larrie was also a Veteran of the Korean War. He was frequently found at district events, and over the last few years manned the Scout Museum in the basement of the Training Center at Camp Bullowa, where he explained the various pieces of scout memorabilia to our youth.

Larrie passed away last Sunday and was buried at a private service this past week in West Babylon, NY. He had been living in Texas for the last two years, following a move from Rockland County with friends Marty and Sue London. A gathering of friends and family will be held next Sunday February 17th, starting at 5pm at the Sports View Restaurant, located at 3 Wayne Ave in Stony Point, NY 10980. Scouts and Scouters that knew Uncle Larrie are welcome to stop by
On Sunday February 3, 2019, at age 89, Lawrewnce "Larrie" F. Goetz "shuffled off this mortal coil" and left behind a deep and rich legacy of honor and dignity, for many to cherish. Larrie was born on August 19, 1929 in Brooklyn, New York to Sol and Mary (Goldberg) Goetz. Larrie followed in the footsteps of his father and grandfather and spent most of his working life as a commercial chauffer "moving man," driving trucks and moving families and businesses for Weisberger and Fisher Brothers Moving and Storage in New York City.

Larrie proudly served his country in the United States Army as a Radar Operator and Forward Observer during the Korean War, beginning his active duty service in March, 1951, serving in Korea with the C Battery, 1st Field Artillery Observation Battalion, and then transferring to the U.S. Army Ready Reserve in March, 1953 through February 1957, at which time he was Honorably Discharged for his "honest and faithful service." Larrie received the Korean Service Medal/United Nations Service Medal in recognition of his service to the country.

Larrie married the love of his life, Lynne H. Sydell, on May 21, 1955 in Brooklyn, NY. Larrie and Lynne welcomed their son, Jeffrey Goetz on their first wedding anniversary, May 21, 1956, and their daughter, Cindy Goetz Halbstein, on March 22, 1962. His children added life to his years with daily outpouring of love and support. He took more pleasure in his children and grandchildren than almost anything else.

Both Larrie and Lynne were "scout parents" to Jeff & Cindy, first in Cub Scouts/Brownies, and then Boy Scouts/Girl Scouts. Larrie proudly served in life-long support and participation in the Boy Scouts, first as a boy scout himself in his youth, then in later years as Scoutmaster of Troop 185, as an adult Scouter, and District and Council leader, in multiple roles. He devoted most of his efforts and time with Scouts in Rockland County, NY, volunteering his time and service in several Kakiat District/Rockland District and Rockland County/Hudson Valley Council leadership roles. Larrie experienced both the Schiff and Philmont Scout Reservations and earned his Wood Badge. He was affectionally and endearingly known by no less than 3 generations of Rockland Boy Scouts as "Uncle Larrie".

Larrie was recognized annually by the Rockland County Council of the Boy Scouts of America as a Century Member between 1976 and 1980 for his support and volunteering as an adult scout leader. In March, 1987, upon nomination by the Rockland County Council, The Boy Scouts of America presented the national recognition of The Silver Beaver Award to Larrie for Distinguished Service to Youth.

Larrie was very devoted to the Boy Scouts honor society, The Order of The Arrow, especially his home Munsi Lodge 444, for over 40 years. He was recognized with its highest award, with a Vigil Honor, along with being a Founders Award recipient by the National Order of the Arrow Committee of the Boy Scouts of America. His peers in the Hudson Valley Council also presented him with the James E. West Fellow Award in November, 1998 for his dedication to Scouting.

He was also a member and supporter of The American Legion Post 1447, receiving multiple certificates, citations and awards for his support of Scouting. In April, 2001, Larrie was presented with the Rockland District's Chairman Award "For Exceptional Dedication to The Ideals of Scouting and Service to Scouts and Scouters of the Rockland District". He served for many years on the Eagle Board of Review, and was recognized by the Rockland District of the Hudson Valley Council in April, 2003 with the Eagle Support Award "In Appreciation for His Support Of Scouts In Their Efforts To Attain the Rank of Eagle".

After receiving almost every recognition and award by his local Boy Scout Council, he was the inaugural recipient of the "Uncle Larrie" Goetz Award, "In Recognition of The Spirit, Service, and Fellowship In The Rockland Scouting Community" in April, 2010.

After seeing a notice in the back of one of his American Legion Magazines on 2009, he learned that a group of his former comrades in arms with the 1st Field Artillery Observation Battalion were meeting annually at reunions across the country. Larrie reconnected years later with his buddies at reunions in Washington, D.C., Louisville, KY, Springfield, IL, Indianapolis, IN, and at their final reunion in October, 2014 in Des Moines, IA.

Larrie was preceded in death by his parents, his older brother Fred, and his wife Lynne. He is survived by his son Jeffrey (Sally) in Des Moines, IA, and his daughter, Cindy Goetz Halbstein in Boynton Beach, FL, Cindy's four children, Jessica Steinberg Yehudis (Lazer) Steinberg, Ari Sab Arianna (Koby) Sabghir, Bayla Weisman Bayla (Dovid) Weisman, and Dovid Halbstein, as well as 11 great-grandchildren.

His family would like to especially thank his long-time friends and confidants, Sue, Marty, Phil and Erin London for their love, comfort and support of Larrie during his final years.

Larrie's internment was preceded by a military honor guard, before being laid to rest next to his wife, mother, and father at Beth Moses Cemetery in Lynwood, NY. Donations in his memory should be directed to the Hudson Valley Council Campership Fund, and Jewish War Veterans of America.
---
Upcoming Events:
---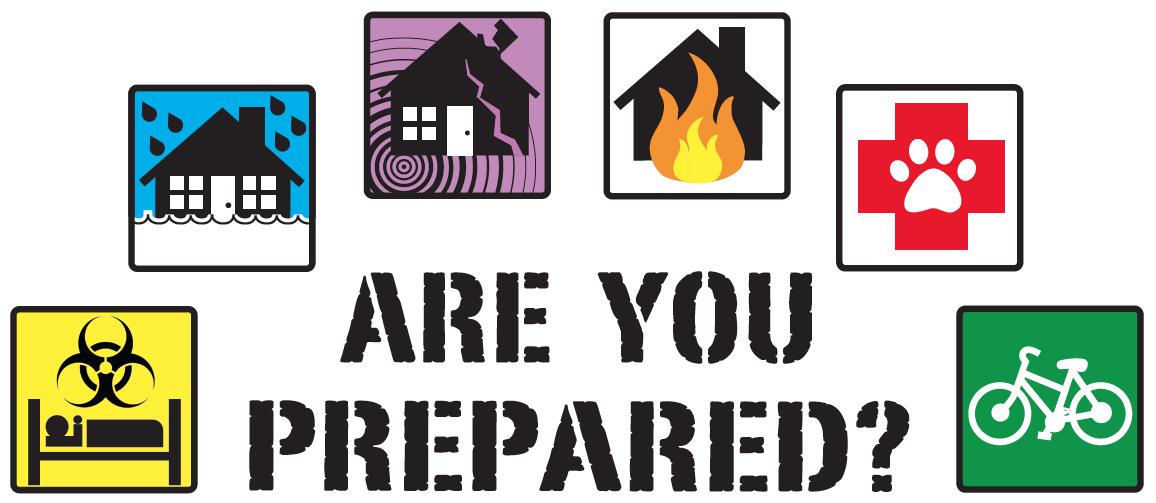 Find Out:
May 17-19, 2019
Emergency Preparedness Spring Camporee
Camp Bullowa
This Event is Open to ALL Scouts
All Cub Scouts will have option to camp overnight Saturday night only
Details to Follow
---
The 2018-2019 Rockland District events schedule is here!
click here for flyer
---
Rockland District News
What's happening in the Rockland District? Post your unit news here.
Send your news, upcoming events, fundraisers, exciting trips, flyers or anything you would like to share with the Rockland District Units.
Send your news to the Webmaster
---
See whats happening in the Rockland District!
---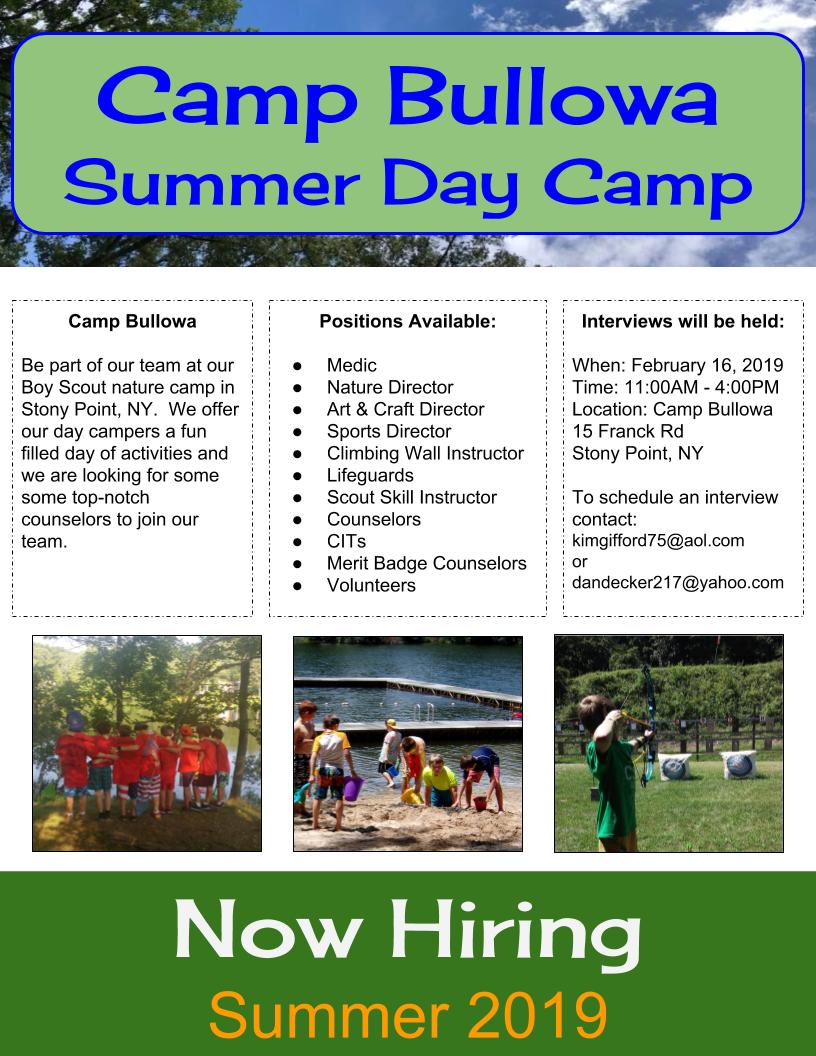 Congratulations Rocklands Newest Eagles
| Eagle Date | Eagle Scout | Troop | Eagle Project |
| --- | --- | --- | --- |
| January 2019 | J. Becher | 2121 | Two Lean-to Shelters at Old Town Beach, Warwick NY |
| | S. Gormley | 2477 | Three Benches with Planters for the Town of Warwick |
September Rockland Round Up is Here
---
A posting from George Hoehmanns Facebook page:
One of the best things about being Supervisor is helping people to solve a problem that may seem insurmountable. About a month ago a senior citizen, a widow living alone with no family available in the area to assist her contacted me about getting some help to clean up her property. Her son who lives over one hundred miles away and has health issues cannot help and the property had become overgrown. Her husband died over twen
ty years ago and she lives on a fixed income unable to afford the cost that would be incurred to clean the property. I put her in contact with BRIDGES which has the CHORE program where seniors can get some basic home maintenance for a nominal fee. However the type of assistance she required was well beyond the CHORE program which typically does things like fixing a broken lock or fixing a leaking faucet.
So I suggested to my constituent assistant Lauren Daly that we contact a Boy Scout Troop. Yesterday, some scouts and adults from Troop 42 came to the senior home in Bardonia and spent several hours clearing the property.
Great job by scouts Kolby Schroer, Kryss Rojas,Scoutmaster Ed Medler and troop leaders/parents Eric and Lynn Muller and Dave Damo. Special thanks to Lauren from my office who got the scouts together with the senior who benefited from this wonderful work and for pitching in on the clean up. The generosity and enthusiasm of our scouts is just remarkable.
Thank you all for helping to ease the burden of a disabled elderly widow enabling her to rest a bit easier now that her property is accessible again."
---
Congratulations to Rocklands Newest Eagles
| | | | |
| --- | --- | --- | --- |
| November 2018 | T. Gardiner | 2121 | Church of the Holy Rosary Children's Choir Loft Renovation |
| | S. McCabe | 2036 | Roofing Project at Pearl River Little League |
| | J. Oswald | 2097 | Van Orden / Trumper Cemetery Restoration & Sign Installation |
| | M. Stewart | 2033 | William P. Faist Volunteer Ambulance Corps 2 LED Signs & Landscaping |
| | J. Sweet | 2079 | American Legion Post 1682 Sign Replacement & Landscaping |
Pictures from the Rockland District launch are posted, click here for photo album
---
June Rockland Roundup is here, click here to view
---
Congratulations to Rocklands Newest Eagles
| | | | |
| --- | --- | --- | --- |
| May 2018 | R. Bialik | 2079 | Audio System for New City Jewish Center |
| | J. Feldberg | 2079 | Helen Hayes Hospital Adaptive Golf Program Path |
| | M. Gavin | 2097 | Rockland Farm Alliance Beehive Shelter |
| | I. Sudol | 2079 | Fred Eller American Legion Post Flag Retiring Pit |
---
Sunday

appeared to be a washout for many events all over the tri-state area. From the news, activities left and right were cancelled because of those early morning rains.

BUT NOT OUR ROCKLAND DISTRICT CUB SCOUTS!! It took a lot more than rains from the heavens to scare these Cubs away from the racing, the riding, the Scout skills, the food, the fun, and more, and the Spring Cub-O-Ree!
We would like to take this moment to recognize and thank those who made this event possible:
Pack 19, Mark Olson, Jack Meyers, Robert Piniero, Mike DiDomizio, Warren Collins,
Troop 2, Troop 10, Troop 29, Troop 33, Troop 37, Troop 42, Troop 55, Troop 79,
Troop 477,
Ship 37,
Orangetown Police Department, Pearl River Ambulance Corps, Bicycle Depot,
Pearl River Fire Department, Tilcon, Orangetown Highway Department, New York Life,
Clarkstown Highway Department, Tiger Schulman's Karate,
West Nyack Fire Department, Pfizer for allowing us to use their parking lot
and
your Rockland District Activities Committee
If you are interested in joining the Rockland Activities Committee to provide wholesome events like this, contact Karen Breslow (alanandkarenbreslow@gmail.com).
---
Congratulations to Rockland's Newest Eagles
| | | | |
| --- | --- | --- | --- |
| April 2018 | W. Naughton | 2055 | Bat Houses at West Nyack Swim Club |
| | A. Tesik | 2061 | Information Sign & Beautification for Immaculate Conception Church |
| | J. Tyrie | 2079 | St. Francis of Assisi Church Flagpole Installation |
---
---
https://patch.com/new-york/newcity/tigers-eagles
---
Congratulation to Rocklands newest Eagles
| | | | |
| --- | --- | --- | --- |
| January 2018 | S. Brosnan | 2078 | Clarkstown, NY Town Pool AEDs & Information Board |
| | A. Carbone | 2036 | Pearl River HS Auditorium Booth Renovation |
| | V. Carney | 2121 | Law Enforcement Memorial for the Village of Greenwood Lake |
| | J. Moon | 2146 | Tuxedo Park Trail Improvement |
| | C. Petry | 2037 | Saint Catharine's Cemetery Restoration & Statue Garden |
| | R. Slattery | 2097 | Bogert Family Cemetery Restoration |
| | E. Vallebuona | 2097 | Germonds Trail Extension & Revitalization |
| | C. Walsh | 2002 | Welles Crowther 9/11 Memorial |
---