The Rockland District serves more than 2,100 youth in over 50 units
in Rockland and Orange Counties in New York.
Upcoming Events:
---
The 2018-2019 Rockland District events schedule is here!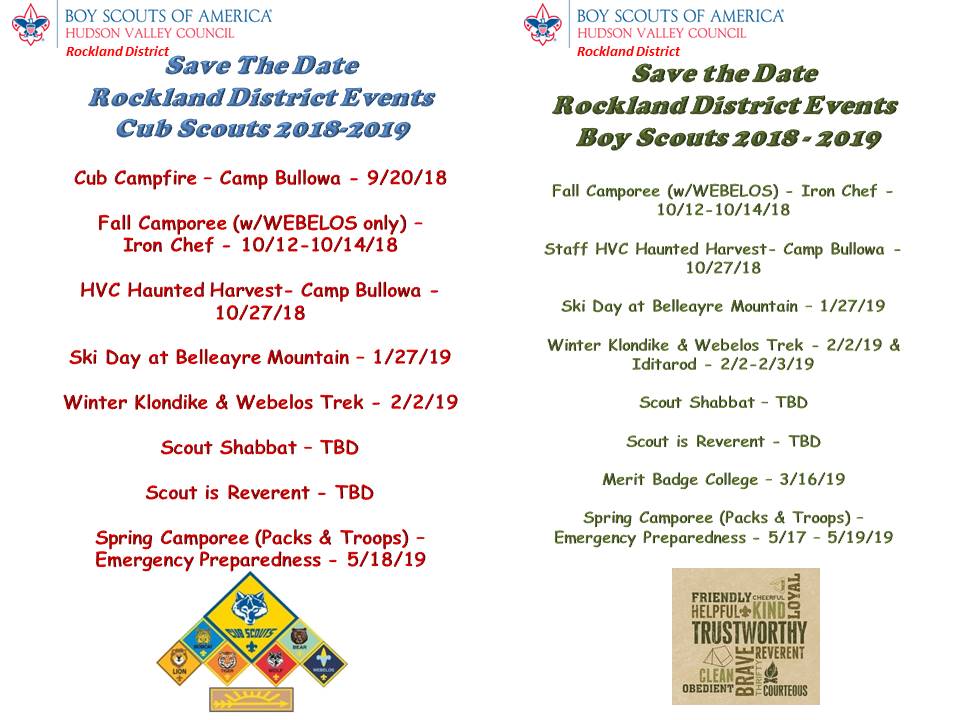 ---
REGISTER FOR CUB SCOUT DAY CAMP AT CAMP BULLOWA!
At Camp Bullowa Cub Scout Day Camp, we strive to give your child an opportunity to grow physically and mentally while having a great time. Memories and friendships made at Camp Bullowa will last a lifetime!
Summer Camp Information:
Camp Bullowa is a Monday through Friday week-long day camp in Stony Point NY. There are five sessions. Program begins daily at 8:30 AM with an opening flag raising ceremony and completes at 3:30 PM with a flag lowering ceremony. The camp is run by Boy Scout youth and Boy Scout adults, known as Scouts and Scouters, respectively. Our top-notch program is based in Scouting traditions including focus on Good Citizenship, Physical Fitness, Nature, Challenging Adventures, and Outdoor Skills. Through the program we look to instill Scouting ideals such as the Scout Oath and Law, and for everyone to do their best, be prepared, and to do a good turn daily.
Centralized bus transportation and early/late pick up times are available for an additional $75 per child per week. The bus schedule for each week will not be finalized until the preceding Thursday. Please sign up early if you are interested in transportation.
On Thursday afternoon and evening we invite all of our campers and their families to come together for a meal and a campfire. Parents can come and see what their child(ren) has been working on and accomplished that week, meet our fine staff, see several program areas, and then enjoy some nourishment and a campfire with songs and skits put on by our staff and your children.
ALL CAMPERS must have a completed BSA Medical form, Parts A and B submitted by June 30, 2018. This form can be downloaded here. Completed forms should be submitted electronically to Registration Information: See Registration links below to register online!
For Cub Scouts: Please have your child's pack and rank information available at the time of registration.
For Non Scouts: While filling out the electronic forms during the registration process, you will be asked if your son is registered in Scouting? If you answer "No" an additional fee of $25 will be added to your total. This is a one time, temporary registration in the Learning for Life Program which is a Co-educational program that falls under the Boy Scouts of America insurance umbrella. This offers a temporary registration and accident and sickness insurance for your child while on our property or participating in Summer Camp events. This only needs to be selected once regardless of the number of weeks your child(ren) are being registered.
Special Accommodations: We are required by the NYS Department of Health to ask this question. You have the right to "not answer at this time." This is specifically looking for mental or physical attributes that will require extra supervision, and may require special action plans and training for our staff. Documentation of the diagnosis from a physician and any written plans of action will be requested when you submit your medical.
REGISTRATION LINKS: (Cub Scout Camp Only, Boy Scout Adventure Camp registration will open soon!)
Week 1 - July 9-13
Week 2 - July 16-20
Week 3 - July 23-27
Week 4 - July 30-August 4
Week 5 - August 6-10
---
Haunted Harvest is coming back to Bullowa October 2018
---
Rockland District News
What's happening in the Rockland District? Post your unit news here.
Send your news, upcoming events, fundraisers, exciting trips, flyers or anything you would like to share with the Rockland District Units.
Send your news to the Webmaster
---
Congratulations to Rocklands Newest Eagles
| | | | |
| --- | --- | --- | --- |
| June 2018 | J. Carney | 2055 | Kidney Disease Awareness Concert at Community Gospel Church |
| | M. Ceglinski | 2021 | Raised Planting Beds & Trellises for Garden of Hope |
| | M. Davidson | 2079 | South Gate Trail Kiosk for NY-NY Trail Conference |
| | J. Lardin | 2033 | Nanuet Little League Picnic Area |
| | A. Matthews | 2033 | Nanuet High School Outdoor Eating Area |
| | J. Olsen | 2010 | Haverstraw Brick Museum Memorial |
---
Pictures from the Rockland District launch are posted, click here for photo album
---
June Rockland Roundup is here, click here to view
---
Congratulations to Rocklands Newest Eagles
| | | | |
| --- | --- | --- | --- |
| May 2018 | R. Bialik | 2079 | Audio System for New City Jewish Center |
| | J. Feldberg | 2079 | Helen Hayes Hospital Adaptive Golf Program Path |
| | M. Gavin | 2097 | Rockland Farm Alliance Beehive Shelter |
| | I. Sudol | 2079 | Fred Eller American Legion Post Flag Retiring Pit |
---
Sunday

appeared to be a washout for many events all over the tri-state area. From the news, activities left and right were cancelled because of those early morning rains.

BUT NOT OUR ROCKLAND DISTRICT CUB SCOUTS!! It took a lot more than rains from the heavens to scare these Cubs away from the racing, the riding, the Scout skills, the food, the fun, and more, and the Spring Cub-O-Ree!
We would like to take this moment to recognize and thank those who made this event possible:
Pack 19, Mark Olson, Jack Meyers, Robert Piniero, Mike DiDomizio, Warren Collins,
Troop 2, Troop 10, Troop 29, Troop 33, Troop 37, Troop 42, Troop 55, Troop 79,
Troop 477,
Ship 37,
Orangetown Police Department, Pearl River Ambulance Corps, Bicycle Depot,
Pearl River Fire Department, Tilcon, Orangetown Highway Department, New York Life,
Clarkstown Highway Department, Tiger Schulman's Karate,
West Nyack Fire Department, Pfizer for allowing us to use their parking lot
and
your Rockland District Activities Committee
If you are interested in joining the Rockland Activities Committee to provide wholesome events like this, contact Karen Breslow (alanandkarenbreslow@gmail.com).
---
Congratulations to Rockland's Newest Eagles
| | | | |
| --- | --- | --- | --- |
| April 2018 | W. Naughton | 2055 | Bat Houses at West Nyack Swim Club |
| | A. Tesik | 2061 | Information Sign & Beautification for Immaculate Conception Church |
| | J. Tyrie | 2079 | St. Francis of Assisi Church Flagpole Installation |
---
---
https://patch.com/new-york/newcity/tigers-eagles
---
Congratulation to Rocklands newest Eagles
| | | | |
| --- | --- | --- | --- |
| January 2018 | S. Brosnan | 2078 | Clarkstown, NY Town Pool AEDs & Information Board |
| | A. Carbone | 2036 | Pearl River HS Auditorium Booth Renovation |
| | V. Carney | 2121 | Law Enforcement Memorial for the Village of Greenwood Lake |
| | J. Moon | 2146 | Tuxedo Park Trail Improvement |
| | C. Petry | 2037 | Saint Catharine's Cemetery Restoration & Statue Garden |
| | R. Slattery | 2097 | Bogert Family Cemetery Restoration |
| | E. Vallebuona | 2097 | Germonds Trail Extension & Revitalization |
| | C. Walsh | 2002 | Welles Crowther 9/11 Memorial |
---
Troop 2 Nyack giving back to their Charter organization
An integral part of our parish life, BSA Troop 2, Nyack, has been a part of our parish family for over 75 years. The Scouts and their leaders, headed up by long term Scout Master Kier Levesque, have made a mark on our community in many ways.
---
For the past 18 months, give or take a few days, Boy Scout Maxwell Gedvila of Tuxedo Troop 46 - where his dad, Ed, is the assistant Scoutmaster - has labored over the ruins of the original Sterling Iron Furnace. Read full article on The Times Herald Record
http://www.recordonline.com/news/20180116/barbara-bedell-eagle-scout-restores-sterling-iron-furnace
---
Rockland County Executive Ed Day congratulated Pennsylvania College of Technology freshman Peter Yacuk of Troop 79 in New City on becoming an Eagle Scout at his Eagle Scout Court of Honor. Read full article below
https://patch.com/new-york/newcity/clarkstown-north-graduate-becomes-eagle-scout
---
BSA Troop 97 (New City) 50th Eagle Celebration
---
2017 Fall Camporee and Cuboree

This Fall the Rockland Activities Committee changed things up for the Fall Camporee. They held a Cub O Ree within the Camp O Ree!

The Boy Scouts lead the Trail for the Cubs teaching them scout skills, dutch oven cooking, first aid, fire building, carpentry skills, plus monkey bridges and climbing walls and much much more. The camporee was attended by over 500 scouts, leaders, cubs and parents. New this year Human Foosball and the 1st ever Lake Boyce Cardboard Boat Races where 10 brave scouts braved Lake Boyce and attemted to paddle the course.

Look for article on Camporee/Cuboree in next months Rockland Round up.

Click here for pictures of event

Additional photos from this event are on Facebook.
---
Boy Scouts work hard to leave no trace…but the Rockland District Cub Scouts left some tracks today!
The Rockland District, of the Hudson Valley Council in New York, held its 2017 Pushmobile Derby on May 7th. Beating an unusually cold afternoon and light spotted showers, the District Cubs, leaders and families united to show off their hard work on their cars.
And hidden in all the fun was some great learning and advancement opportunities. For young Cubs, building the car is a first opportunity for engineering and construction. The local fire services taught about first aid and fire safety. Local Troops and Crews facilitated everything, including cooking, camping and hiking demonstrations, knots and lashings, crafts and more!
Their hard work paid off. All in all, it was a great day for everyone. Thank you Jack Meyers for all the great pictures!
Click here to see pictures of pushmobile derby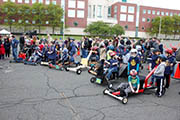 ---
2017 Rockland District Dinner Photos - Congratulations to all the winners.
Thank you Denis Tanney for all the great pictures Click here for photos
---