---
2019 Summer Camp
Outdoor fun and adventure is what summer camp is all about. Make sure your child doesn't miss out on all the excitement waiting for him/her this summer! Our 15 summer programs are conveniently located and offer a wide range of terrific programs and activities for your child and family.
All HVC Day Camps are open to All Boys and Girls in grades 1st - 5th grade - Both Scouts and Non-Scouts!
---
Rockland District News
What's happening in the Rockland District? Post your unit news here.
Send your news, upcoming events, fundraisers, exciting trips, flyers or anything you would like to share with the Rockland District Units.
Send your news to the Webmaster
---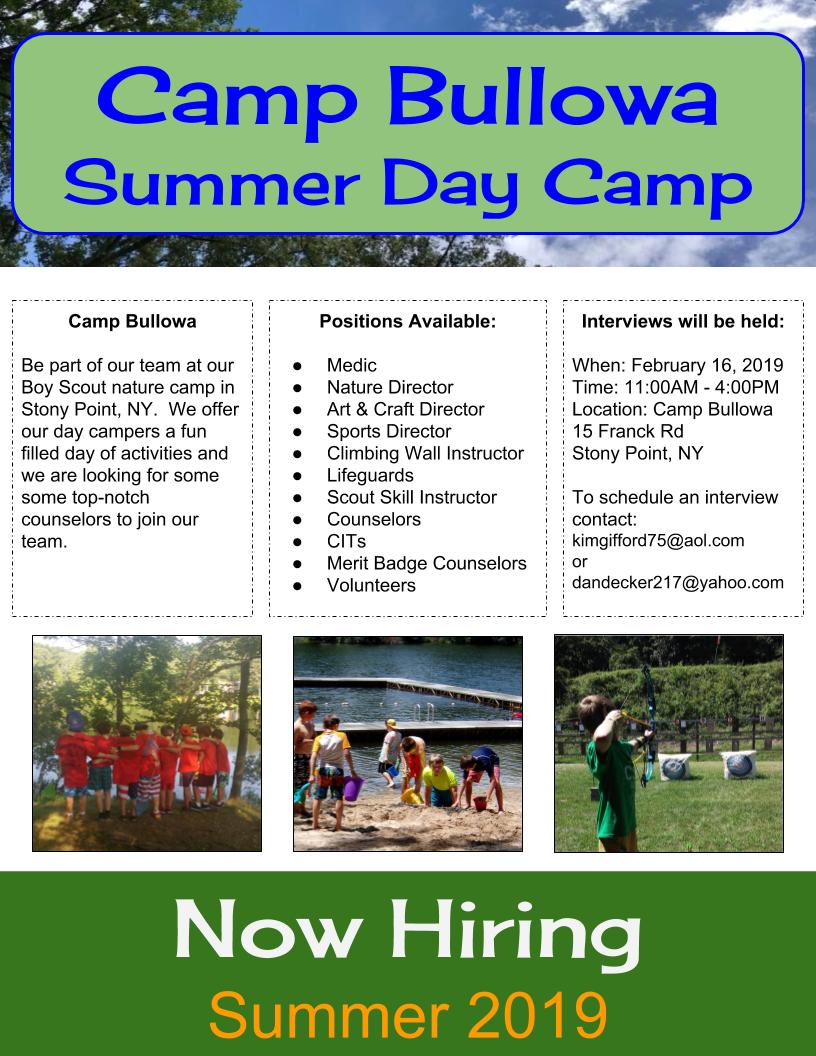 Congratulations Rocklands Newest Eagles
| Eagle Date | Eagle Scout | Troop | Eagle Project |
| --- | --- | --- | --- |
| January 2019 | J. Becher | 2121 | Two Lean-to Shelters at Old Town Beach, Warwick NY |
| | S. Gormley | 2477 | Three Benches with Planters for the Town of Warwick |
September Rockland Round Up is Here
---
A posting from George Hoehmanns Facebook page:
One of the best things about being Supervisor is helping people to solve a problem that may seem insurmountable. About a month ago a senior citizen, a widow living alone with no family available in the area to assist her contacted me about getting some help to clean up her property. Her son who lives over one hundred miles away and has health issues cannot help and the property had become overgrown. Her husband died over twen
ty years ago and she lives on a fixed income unable to afford the cost that would be incurred to clean the property. I put her in contact with BRIDGES which has the CHORE program where seniors can get some basic home maintenance for a nominal fee. However the type of assistance she required was well beyond the CHORE program which typically does things like fixing a broken lock or fixing a leaking faucet.
So I suggested to my constituent assistant Lauren Daly that we contact a Boy Scout Troop. Yesterday, some scouts and adults from Troop 42 came to the senior home in Bardonia and spent several hours clearing the property.
Great job by scouts Kolby Schroer, Kryss Rojas,Scoutmaster Ed Medler and troop leaders/parents Eric and Lynn Muller and Dave Damo. Special thanks to Lauren from my office who got the scouts together with the senior who benefited from this wonderful work and for pitching in on the clean up. The generosity and enthusiasm of our scouts is just remarkable.
Thank you all for helping to ease the burden of a disabled elderly widow enabling her to rest a bit easier now that her property is accessible again."
---
Congratulations to Rocklands Newest Eagles
| | | | |
| --- | --- | --- | --- |
| April 2019 | J. Brizzolara II | Ship 2037 | Replace Carpet with Ceramic Tile for Youth Group at St. John Lutheran Church |
Pictures from the Rockland District launch are posted, click here for photo album
---
Spring 2019 Rockland Roundup Click here to view
---
Sunday

appeared to be a washout for many events all over the tri-state area. From the news, activities left and right were cancelled because of those early morning rains.

BUT NOT OUR ROCKLAND DISTRICT CUB SCOUTS!! It took a lot more than rains from the heavens to scare these Cubs away from the racing, the riding, the Scout skills, the food, the fun, and more, and the Spring Cub-O-Ree!
We would like to take this moment to recognize and thank those who made this event possible:
Pack 19, Mark Olson, Jack Meyers, Robert Piniero, Mike DiDomizio, Warren Collins,
Troop 2, Troop 10, Troop 29, Troop 33, Troop 37, Troop 42, Troop 55, Troop 79,
Troop 477,
Ship 37,
Orangetown Police Department, Pearl River Ambulance Corps, Bicycle Depot,
Pearl River Fire Department, Tilcon, Orangetown Highway Department, New York Life,
Clarkstown Highway Department, Tiger Schulman's Karate,
West Nyack Fire Department, Pfizer for allowing us to use their parking lot
and
your Rockland District Activities Committee
If you are interested in joining the Rockland Activities Committee to provide wholesome events like this, contact Karen Breslow (alanandkarenbreslow@gmail.com).
---
Congratulations to Rockland's Newest Eagles
| | | | |
| --- | --- | --- | --- |
| April 2018 | W. Naughton | 2055 | Bat Houses at West Nyack Swim Club |
| | A. Tesik | 2061 | Information Sign & Beautification for Immaculate Conception Church |
| | J. Tyrie | 2079 | St. Francis of Assisi Church Flagpole Installation |
---
---
https://patch.com/new-york/newcity/tigers-eagles
---
Congratulation to Rocklands newest Eagles
| | | | |
| --- | --- | --- | --- |
| January 2018 | S. Brosnan | 2078 | Clarkstown, NY Town Pool AEDs & Information Board |
| | A. Carbone | 2036 | Pearl River HS Auditorium Booth Renovation |
| | V. Carney | 2121 | Law Enforcement Memorial for the Village of Greenwood Lake |
| | J. Moon | 2146 | Tuxedo Park Trail Improvement |
| | C. Petry | 2037 | Saint Catharine's Cemetery Restoration & Statue Garden |
| | R. Slattery | 2097 | Bogert Family Cemetery Restoration |
| | E. Vallebuona | 2097 | Germonds Trail Extension & Revitalization |
| | C. Walsh | 2002 | Welles Crowther 9/11 Memorial |
---