Camp Bullowa Celebrating 70 Years 1947-2017
The Rockland District serves more than 2,100 youth in over 50 units
in Rockland and Orange County in New York.
What's coming up in the Rockland District for 2016-2017 scouting year
Rockland District News
What's happening in the Rockland District? Post your troop, pack, crew or ship news here.
Send your troop news, upcoming events, fundraisers, exciting trips, flyers or anything you would like to share with the Rockland District Troops.
Send your news to the Webmaster
Upcoming Events:
---
Registration Now Open Click Here
Cub Scout registration includes racing, meal voucher and patch
What: A pushmobile derby for Cub Scouts. A push mobile is a Cub Scout/adult-built, Cub-powered go-cart. Building the car is a great teamwork exercise for adults and youth. Racing it in friendly competition against other packs in the Rockland District is just fun!
When:
Sunday, May 7, 2017
. (Rain Date
May 21
).
First race kicks off at 12 noon
. (Registration and per-rank check in times to follow).
Where: The Rockland International Speedway (a.k.a. Pfizer parking lot, Pearl River, NY)
Who: Cub Scouts of all ranks
Cost: To be announced shortly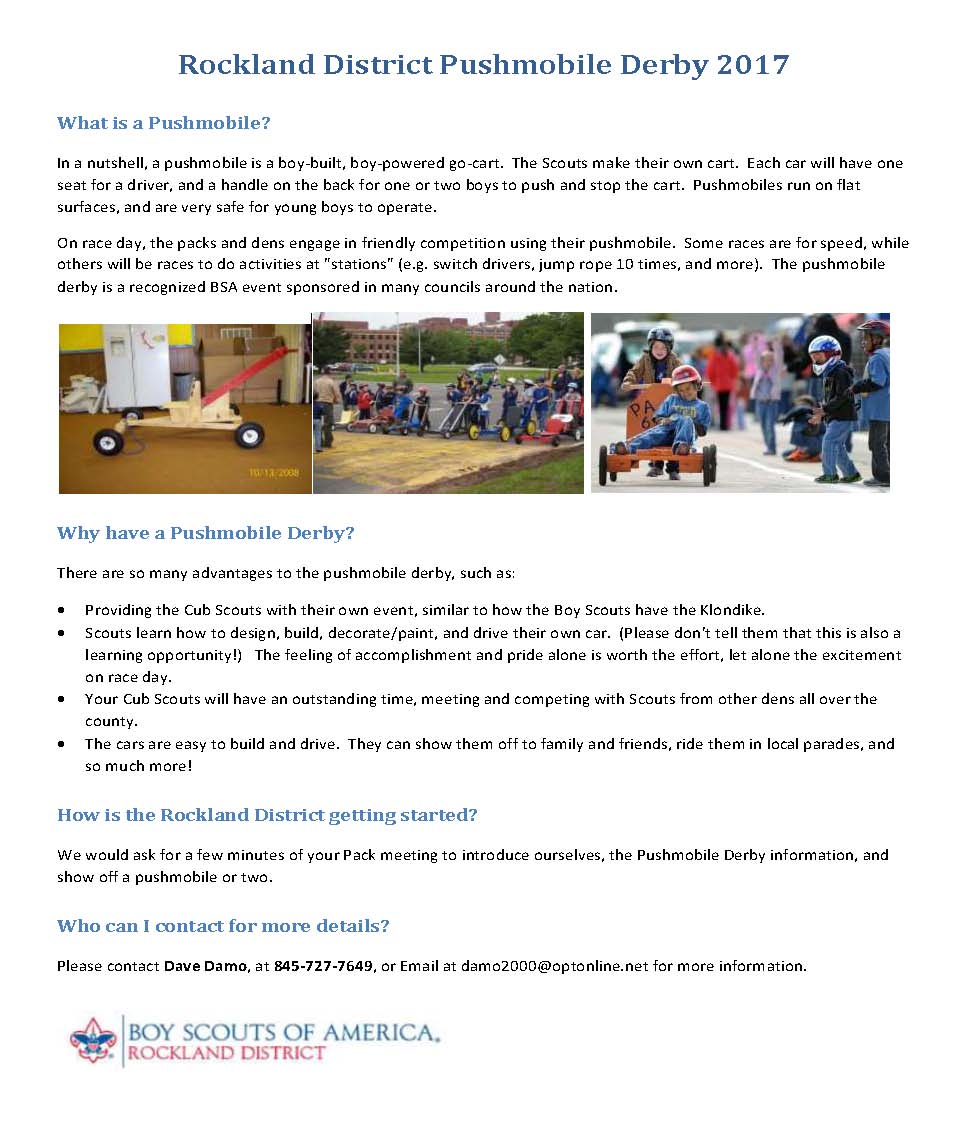 Click here for Push Mobile Specifications
---
Rockland District
Annual Awards and Recognition Dinner
Now is the time to start considering who from your Unit should be nominated. Please honor our Scouting Leaders who have unselfishly given their time and effort to our sons/daughters by attending the Rockland District Dinner.
No nominations will be accepted after March 17
The Awards List can be found here Click here to submit a nomination
All nominations will be acknowledged to the submitter to confirm receipt.
Registration Information:
Seating will be set for 10 people per table. We encourage every unit to reserve one or more tables, which will enable you to receive a discount from the single registration price. All units should consider covering the cost for anyone they nominated who receives an award.
Table of 10 – $350.00 When registering for a table of 10, please be sure to email the list of names to George Ferguson (gnf1@mail.com)
The table option will be available until April 23.
Early-bird Registration from Feb 6-Apr 8 $37.00
Normal registration Apr 9-23 is $45.00
Late registration after Apr 24-26 is $50.00
(No Registrations accepted after Apr 26 or at the door)
To register to attend the dinner: click here
Any questions, please contact Dinner Chair George Ferguson (e-mail: gnf1@mail.com cell: 201-259-3759)
---
Sports and Scouting
Josh Hart is plays basketball for Villa Nova which is currently ranked number 2 in the Big East Conference. Josh is one of the top 5 players in that conference. I personally know how much sports competes with scouts, especially right around that Weblo to scout transition and again when starting high school. I am the parent of an Eagle/Scholar Athlete who is currently playing competitive lacrosse in college. Click on link below to hear his story.
www.espn.com/video/clip?id=18763601
---
Congratulations to all our New Rockland District Eagle Scouts
January 2017
Matthew Lobaton 2078 UNICO Bocce Ball Court at St. Joseph Regional High School
Ryan Fallon 2078 Tappan Zee HS Welcoming Area - Wooden Sign with Flower Ring & 4 Picnic Tables
Benjamin Ludwig 2079 Beautification Project at St John's Church
Andres Hernandez-Rodriguez 2097 Camp Venture - George Strayton Center Beautification Project - Walkway & Arbor
December 2016
Devon O'Loughlin 2034 St. Vincent De Paul Food Pantry Garage
John McKeon 2034 Old Stone Church Trash Enclosure
Garrett Nicholson 2146 Heroes Walk at Village of Sloatsburg Community Fields
James Pietrangelo 2079 American Legion Post 1682 Sign and Landscaping
October 2016
Thomas Fitzpatrick 2078 Swinging, Climbing and Sliding for Camp Venture
Andrew Hekl 2146 Playground Project - 4 Picnic Tables & Planter for George F. Baker High School
John Poulos 2021 American Legion Memorial and Beautification
Jared Simon 2021 Dog Decks for Hudson Valley Humane Society
September 2016
William McIsaac 2019 North Rockland High School Band Room Cabinetry
---
| | |
| --- | --- |
| 2017 Summer Camp | |
---
T21 Cleans up Harriman Trails
---
Click image for pdf version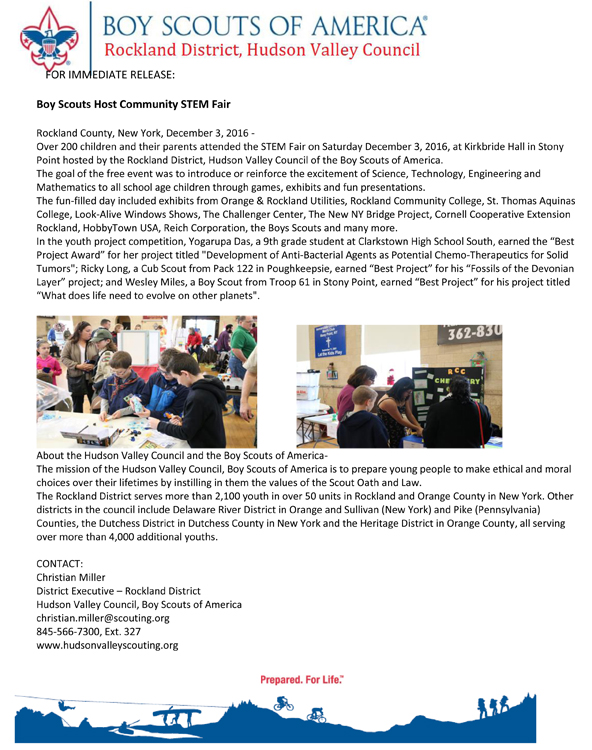 ---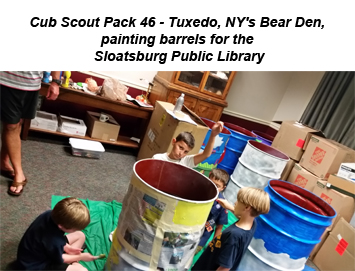 ---
Congratulations to the new Eagle Scouts!
M. Gavin Troop 2097 Felix Festa Middle School Outdoor Classroom
J. Nicastro Troop 2034 Methodist Church Landscaping and Clean up
G. O'Reilly Troop 2146 Barbecues for the Wee Wah
F. Sapienza Troop 2097 Karassik Memorial Garden and NCLL Seating Area
D. Hernandez Troop 2078 St. Boniface Entrance Pillars
---
There is a new Crew forming in Rockland!
BSA Venturing Crew
Ages 14-20 Male & Female
Join a new Scout Crew designed to provide all members with a unique opportunity to learn about firearm safety, equipment and actual shooting.
This Crews official formal start date will be December, we will still be soliciting for new or existing Scouts who are interested in firearms and shooting.
An official BSA application must be completed and submitted to be included with the Crew application to the BSA.
Come to the November 28th meeting, 6:30 61 Hunt Road Orangeburgh, for meeting details contact: info@pearlrivergunclub.com
---
Rockland Troops Remember 911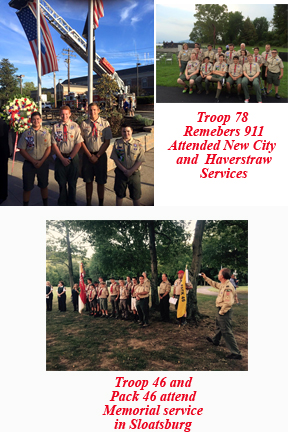 Troop 21 attends 9/11 ceremony at Donna Hallett Park in Suffern. This is the 15th anniversary and the troops 15th time participating in the ceremony.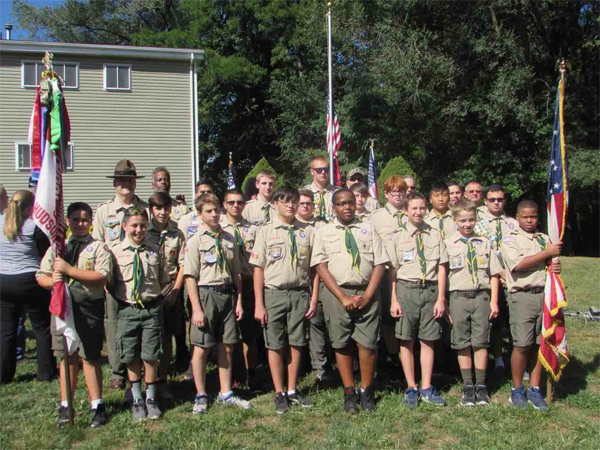 ---
New Eagle Scout in Clarkstown
This project beautified the outside of Veterans of Foreign Wars Post 9215 in Upper Nyack.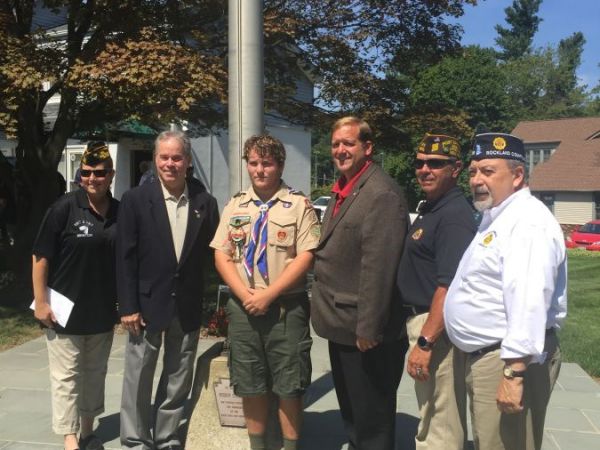 By Lanning Taliaferro (Patch Staff) - August 30, 2016 8:15 am ET
NYACK, NY — Congratulations to Clarkstown's newest Eagle Scout Shane Walsh.
For his Eagle Scout project, Shane enhanced, honored and beautified the outside of Veterans of Foreign Wars Post 9215 in Upper Nyack.
The project created a welcoming environment and place for veterans and their families. Clarkstown Supervisor George Hoehmann and County Executive Ed Day attended the ceremony.
---
Ramapo scouts to create 'box city,' run food drive
---
---
Congratulations to July's Eagle Scouts:
G. Lartigue - 2079 - Refurbishing American Legion VA Post's Kitchen
M. Tyrie - 2079 - Time Capsule Preservation
B. Wunsch - 2055 - Piermont Pier Fish Sign
---
Boy Scouts from Troop 2 in Nyack lead campers of the Benim Social Academy at Marydell on a tour of The Garden of Faith.

John Meore/The Journal News